Groundwork
Reimagining every aspect of LA's most iconic coffee shop.
Strategy / Identity / Web / Packaging / Print / Illustration / Photography / Environmental
Groundwork was the first all-organic coffee shop in Los Angeles, finding its footing as a charming cafe in Venice Beach in the early 1990s. After nearly 30 years of growth, Groundwork trusted Ludlow Kingsley to lead a comprehensive rebranding effort, coinciding with the nationwide expansion of their partnership with Whole Foods.
"Ludlow Kingsley was a natural partner to guide this complex process. From our very first kick-off call, I was confident in their ability to help us compete in an extremely competitive market," says Groundwork CEO and Principal Eddy Cola. "Within the first year of our rebrand, we grew national retail revenue by 17%, increased our Annual Contract Value by 10%, and continue to see brand growth year over year."
Logo Design
We crafted a handmade, custom logotype to modernize the original branding while still feeling authentically Groundwork.
Brand Strategy
By consulting key stakeholders and local customers, we identified a need for the beloved brand to better align its messaging and design with its authentic, grass-roots coffee sourcing and roasting approach. We advised focusing on Groundwork's enduring ethos of hard work and placing "Organic" at the start of each product name to emphasize their key differentiator and commitment to community and sustainability.
Product Packaging
We reimagined Groundwork's packaging to match its ethos, focusing on product strategy, information layout, color palette, and graphics. Through the rebranding journey, we continually returned to the image of "dirt under fingernails" after a long day of tending the earth. With this in mind, you'll find packaging graphics that range from blooming flowers to uplifting hands, representing the intersection of humans and nature at the core of coffee making.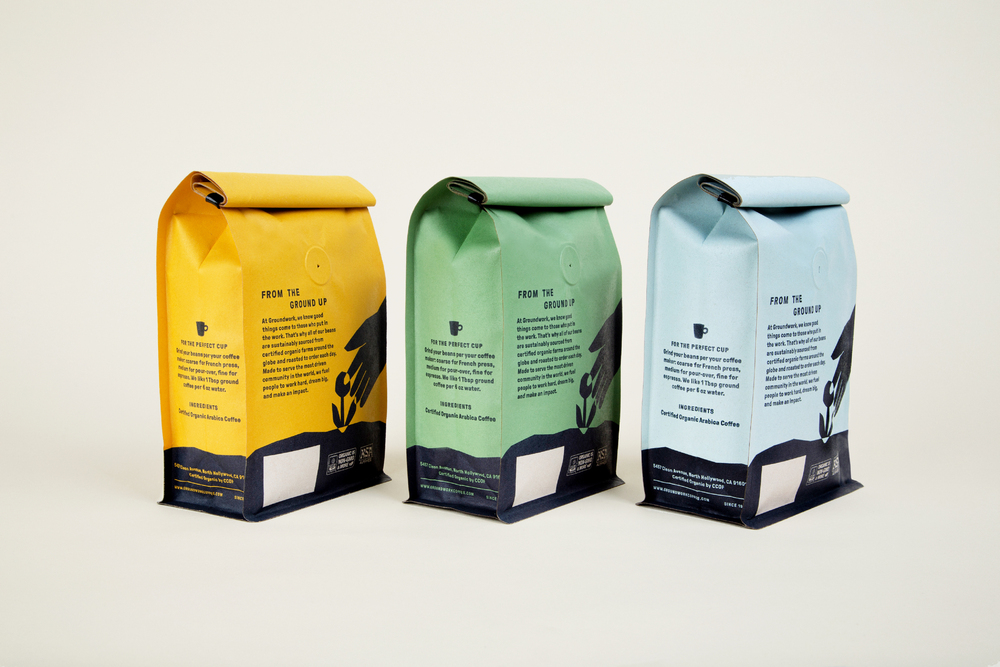 Brand Expansion
One of our favorite assignments is extending our identity work into things like environmental design, merchandise design, and photography. We worked with the Groundwork team to explore new cafe elements such as signage, murals, menus, cups, merchandising, and more. Additionally, we created a memorable art direction for product photography, shooting lovely portraits of each package at our office's photo studio. Groundwork even won best branding by the Specialty Coffee Association Coffee Design Awards at the 2021 Specialty Coffee Expo. Go team!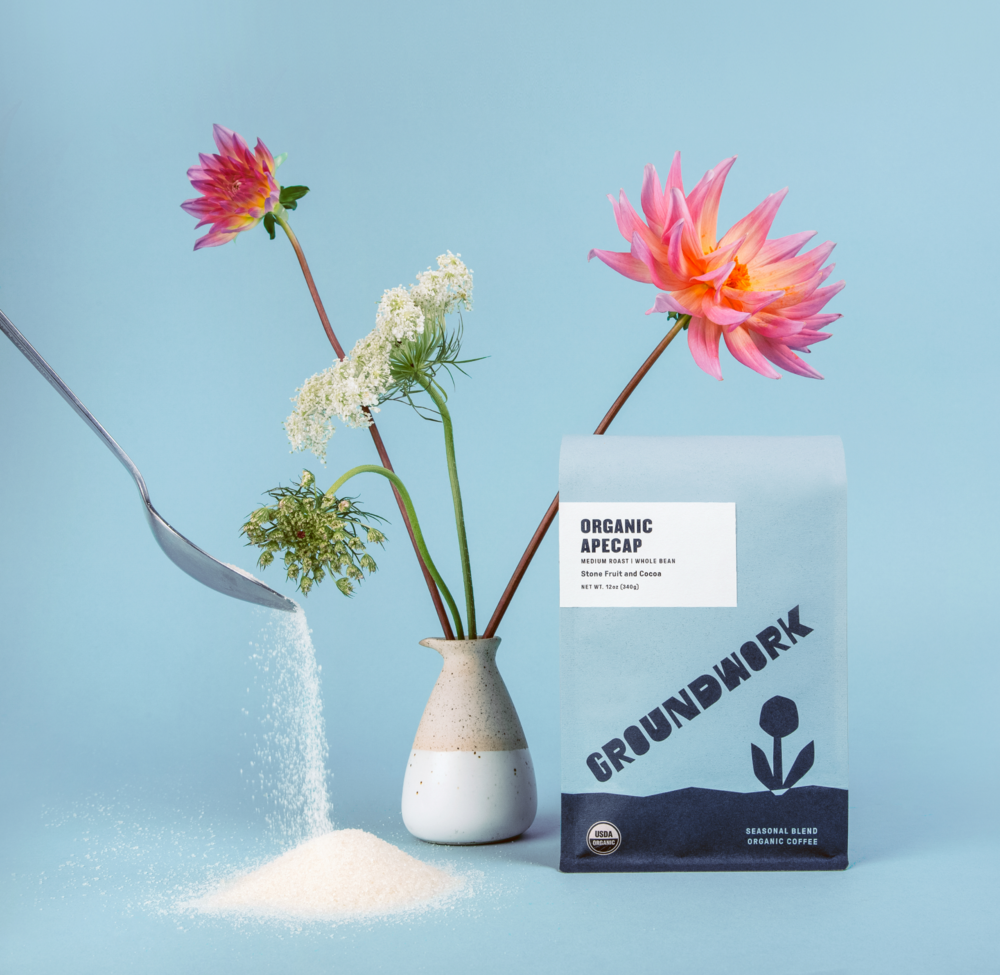 Custom Shopify Website
To accommodate Groundwork's extensive website content, we created a custom Shopify website that enhanced the online experience for Groundwork cafe visitors, DTC shoppers, wholesale partners, and organic coffee lovers everywhere. We balanced various website functions through a re-imagined navigation system, resulting in a clean and organized information architecture. The design elements harmonize with the packaging, featuring earthy colors and graphic elements, while the copy maintains a friendly yet knowledgeable tone. See it yourself at groundworkcoffee.com!
Thank you for reaching out!
We will be in touch shortly.