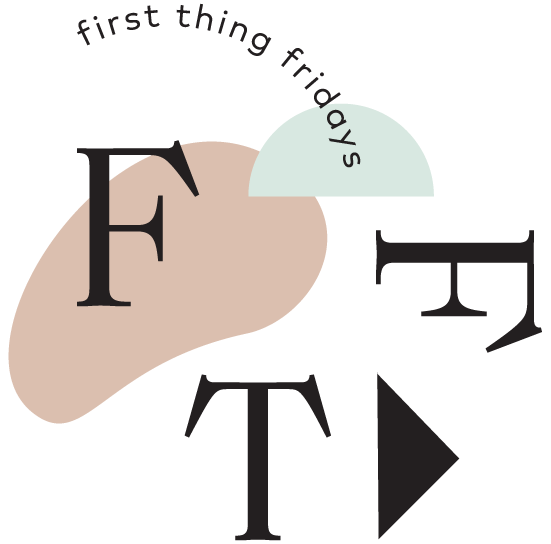 Roxanne from Ludlow Kingsley shares a revelation about design and answers a question about where life has led her
A Couple of Things
Ok, I have a couple things — let's start with the second!
I realized something this morning about design that was really enlightening, and maybe we've talked about it a few times already. But this morning, I was working on a T-shirt design for Grand Central Market and I spent up to two hours trying to get this lettering right, and then something happened to me that rarely happens in 2017, which was that my Illustrator crashed, and I hadn't saved it for an hour. What I realized was, is that it didn't matter. It wasn't what was on my board. I had already solved the problem by the time that the computer crashed, so it literally took me 20 minutes to get back to exactly where I was. You know what I'm saying? All the time that you spend working on something is about solving the problem — its not about the work that you're necessarily creating along the way. That's just the process of it that takes so long. It was so enlightening for some reason! I know it's really obvious, and we've talked about it before, but I was like, "Oh yeah, I've solved the problem already. Now I just have to take 10 minutes to recreate that problem and I'm done."
The other thing I wanted to show you is something you may have seen on my Instagram recently. I've been feeling like making something since I've been in Toronto because I haven't really made anything with my hands or painted in a while. I felt like making something, and Bud was really obsessed with this little lavender pillow that Sophie had made, but the cleaning ladies here threw it in the wash, and now it's gone. So I made him a new one.
I drew this in Procreate — a bear and a bunny — and then I had it printed at Spoonflower, because they print anything on all these different types of fabrics and it took only four days to get to me. Then I cut it out, went out and bought some organic lavender and flaxseed, stuffed it in there, and then posted my Instagram pictures. Because I don't have any paints here yet — well I cant find them — I did it in Procreate (an app on the iPad for drawing), because it's the way to go and so fun to look at the little videos. It's fun and quick. It's just so easy these days to make anything you want and have it in a second. So that's that!
Are you surprised at where your life has lead you?
Not really, no, I am not surprised by where it's led me. The only thing that I'm surprised about is that I live in Los Angeles. Most people will be like, "what, that's weird!" I didn't have any particular expectations, I guess. I am not a big planner of things, which you all know, so everything just sort of happened. Some other things have happened already too, like I'm married and have a kid. But I'm doing something I love!
View all First Thing Fridays