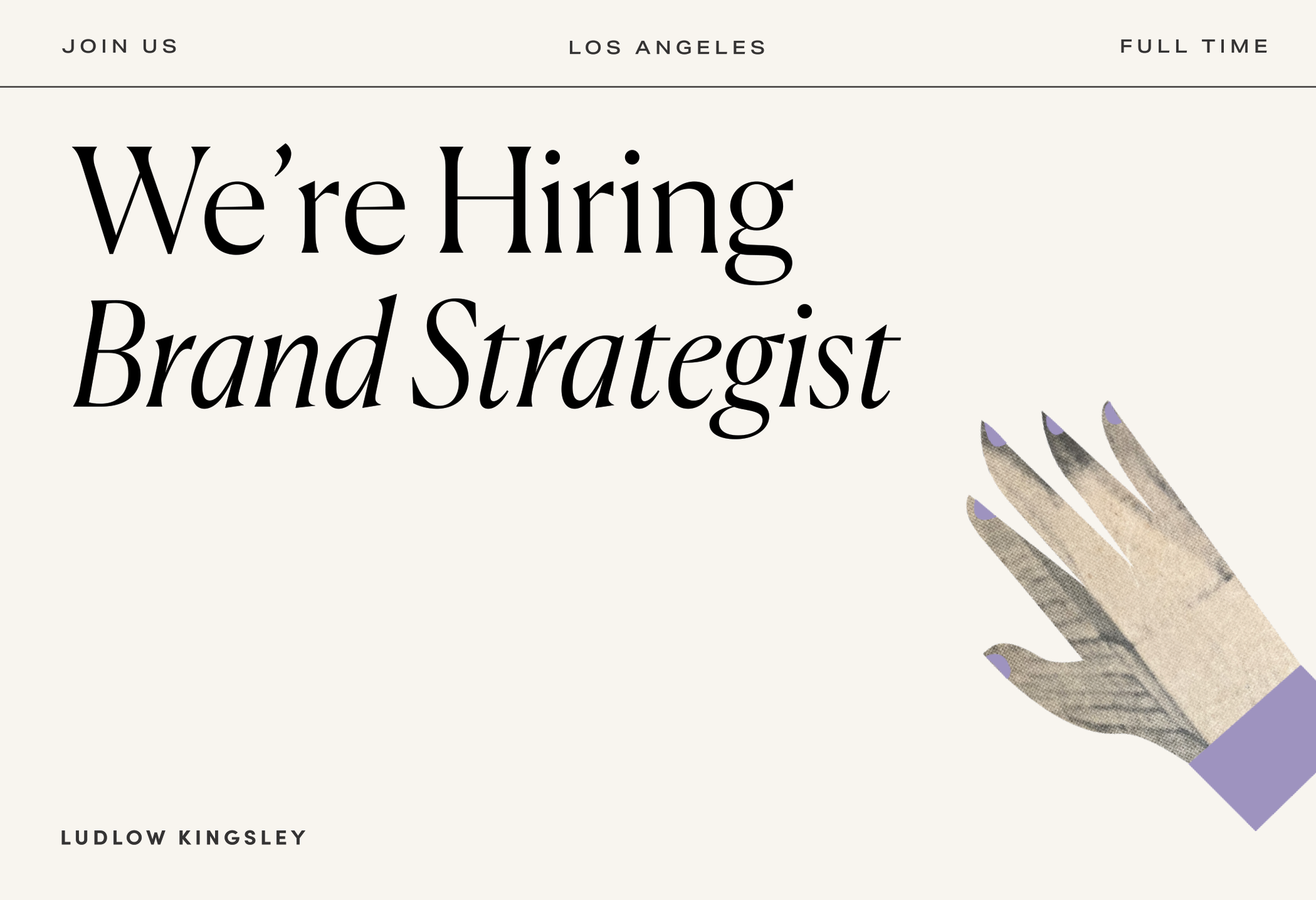 Brand Strategist
A Little About the Job:
Ludlow Kingsley is seeking a brand strategist to work under the guidance of our Strategy Director. Our clients look to us to help them rebrand their existing companies, create something from the ground up, and everything in between. You'll conduct client interviews, do lots of competitive research, write creative copy, and make thoughtful strategic branding recommendations within a wide range of industries.  

A Little About You: 
This is a mid-level creative role that requires some experience, as well as lots of excitement for growing and learning with our team. You should be obsessed with all things branding and stay in the know of industry trends, campaigns, and topics. Though you're not a designer yourself, you should understand how to work directly with designers to create content that fits their needs. You should be an expert creative writer with the ability to create content in a range of brand voices.

Some Things You'll Do: 
Assist, and eventually lead, client interviews by helping schedule conversations, prepping questions, and taking thoughtful notes
Assist, and eventually lead, marketplace research, competitive analysis, brand positioning, and high level ideation for brand strategy presentations 
Interpret approved strategy decks and/or creative briefs to create on-brand messaging across a wide variety of touch points like web, social, and marketing
Think about website content strategy needs at a high level, and collaborate with designers and developers to create thoughtful sitemaps and content outlines
Write clear, concise, on-brand copy for websites, marketing materials, on-pack descriptions, creative campaigns, email blasts, social media, and any other requests from our Strategy Director 
Communicate with the design team and provide any content or strategy needs they may have—from writing copy blurbs for their design directions to creating high level concept descriptions for design presentations 
Bainstorm a variety of taglines and marketing concepts and present ideas to Strategy Director, Creative Director, and LK team at large
Please Reach Out If You:
Have a portfolio that displays work from 2-3+ years working as a strategist and/or copywriter 
Have expert-level creative writing skills 
Are looking for a small, but supportive working environment
Are an empathetic, caring, and emotionally intelligent human being with a collaborative mindset
Have a love for the east side of LA and are able to work on site at our studio 
How To Apply:
Please send us a message about why you're right for this role by using the contact form below. Be sure to include any applicable links like your portfolio, LinkedIn, and/or socials. The more you can share with us the better! 
Thank you for reaching out!
We will be in touch shortly.